English Article
Character Story | The Musical World of Ryuichi Sakamoto, Film Exploration, and Reading Journey
Ryuichi Sakamoto broke cultural and geographical boundaries by masterfully blending Eastern and Western musical elements. Music was his expression and healing, leaving an eternal, dazzling legacy that inspires others to pursue the true essence of music.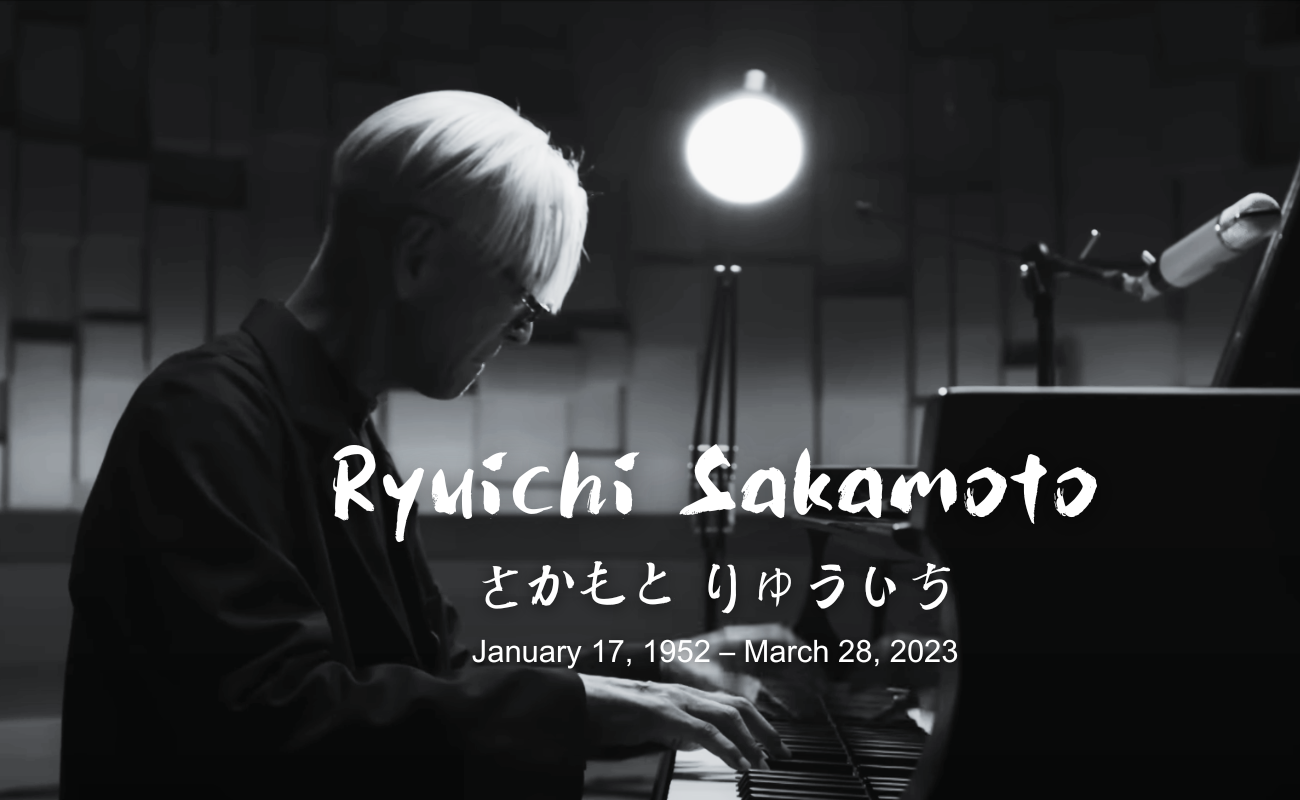 Ryuichi Sakamoto, a genius spanning the realms of music, film, and literature, has always maintained his distinct style. Since composing his first piece, "Song of the Little Rabbit," at an early age, he found his home in the world of music. His mother, Keiko Sakamoto, held high hopes for him and wished for him to become a unique talent that stood out from the crowd. Meanwhile, his father, Kazuki Sakamoto, a renowned editor, opened the door to the world of reading for him.
However, Ryuichi Sakamoto's relationship with his father was far from close. This conflicting relationship came to the forefront when he starred in the film "The Last Emperor." He firmly opposed the portrayal of his character committing ritual suicide, believing it perpetuated a stereotype of Japanese people. This moment became a turning point in his acting career.
In director Nagisa Oshima's film "Merry Christmas Mr. Lawrence," Ryuichi Sakamoto composed the classic score "Merry Christmas, Mr. Lawrence," which became one of his signature works. Despite having no prior experience in film acting, director Nagisa Oshima still allowed him to participate in the film and be responsible for its music. This successful collaboration proved his unparalleled musical talent.
Sakamoto continued to compose music for the film "The Last Emperor," incorporating rich Chinese elements into his work. After multiple revisions, he ultimately presented a musical feast. His compositions, such as "Energy Flow" and "Merry Christmas, Mr. Lawrence," brought great comfort to the Japanese people, showcasing his talent and emotional resonance.
In addition to his musical creations, Ryuichi Sakamoto chronicled his life as a musician in his autobiography "Music Makes Free" and the documentary "Ryuichi Sakamoto: Coda." During times of personal hardship, music became his salvation and brought countless touching moments to others. However, fate was not always kind, and he ultimately departed this world (March 28, 2023).
The Eternal, Dazzling Chapter
Throughout his life, Ryuichi Sakamoto found solace in music. His legendary story will be passed down through the ages, leaving people to lament the passing of this great musical master. However, his musical works will forever live on in people's hearts, inspiring future generations to tirelessly pursue the essence of music. In this world, nothing can obstruct the dazzling chapter of Ryuichi Sakamoto's musical journey.
During Sakamoto's musical voyage, he bravely challenged traditions, sought innovation, and built bridge after bridge with his music. He masterfully fused Eastern and Western musical elements, breaking down cultural and geographical boundaries, and allowing countless people to feel the power of music.
The life of this musical master was filled with peaks and valleys. As he described in his autobiography "Music Sets You Free" (2009) and the documentary "Ryuichi Sakamoto: Coda" (2017), music was not only a form of expression but also a source of healing for him. In every stage of his life, he found solace in music and shared that comfort with his audience.
However, this great musical master eventually left this world. How will people choose songs for his funeral? Perhaps, this is the best tribute to him. His music will continue to accompany those who have been touched by him, bringing endless warmth to their lives.
Ryuichi Sakamoto's musical legacy will live on forever. His works continue to spread around the world, and countless music enthusiasts regard him as a spiritual pillar. With a lifetime of effort, he demonstrated the infinite charm of music and illuminated a path for those who seek the true essence of music.
Looking back on the life of Ryuichi Sakamoto, we see a musician who steadfastly held onto his beliefs, fearlessly challenging established rules and bringing countless emotional moments through his music. His musical journey will forever remain in people's hearts, becoming an eternal, dazzling chapter.
~ The End ~
This article has been translated by ChatGPT-4. The original text was in Chinese.
---
Thank you for reading this article! 😊
We hope you enjoyed the content and don't forget to share your takeaway with your family and friends!
Share this article
Welcome to collect the Writing NFT of this article to show your support for the author. Thank you.