English Article
Character Story | Royal Hairstylist Herman Law Talks about Leslie Cheung
On April 1st, the 20th anniversary of Leslie Cheung's passing, Hong Kong hosts tributes to the pop culture icon. His final concert, "Passion Tour," featured his creative direction and a French designer's styling. Despite critiques, Cheung inspired courage and creativity in embracing unique styles.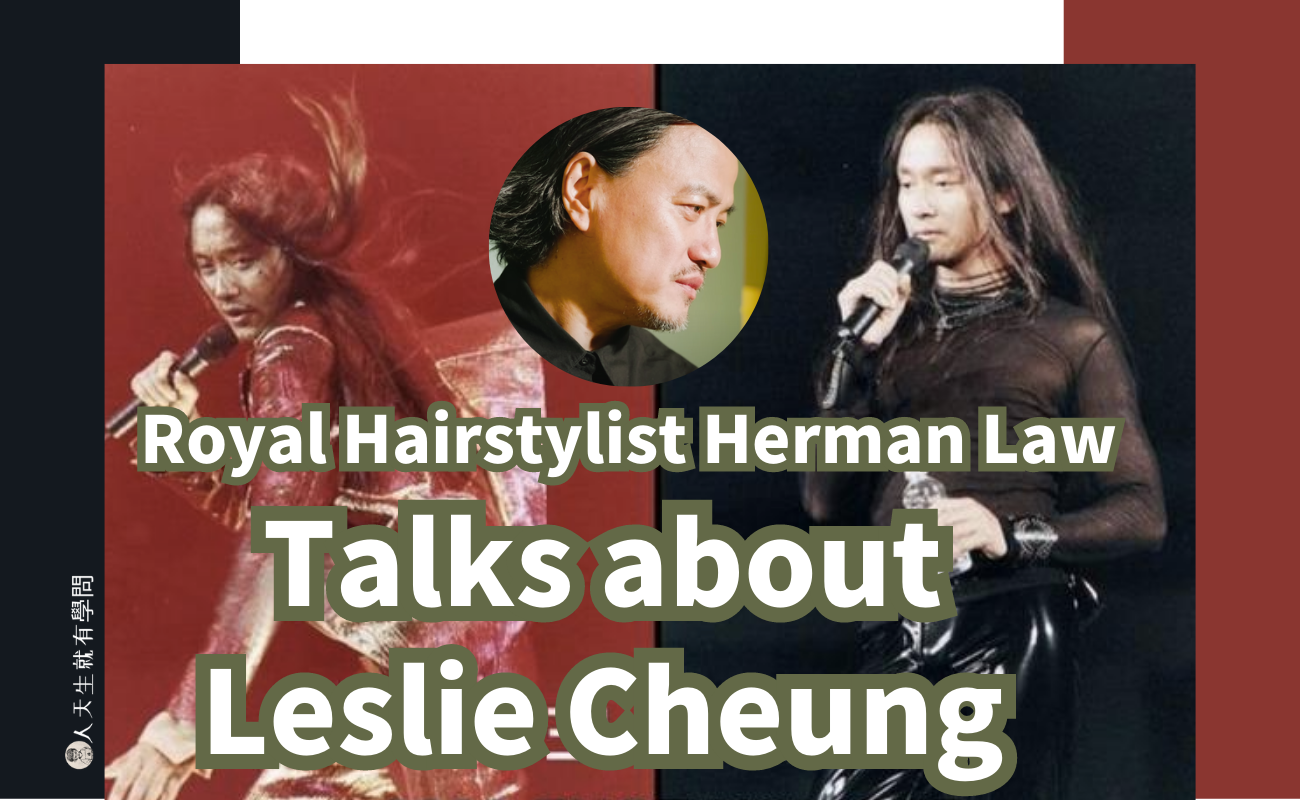 "If someone asks me, what is the epitome of a graceful gentleman in the writings of Chinese scholars? I would tell you, it's Leslie." James Wong said this at Leslie Cheung's funeral.
I remember returning home on the evening of April 1, 20 years ago. My mother told me that Leslie Cheung had committed suicide. I thought she was joking, as it was April Fool's Day. She talked for a while, but I didn't believe her until I saw the news reports. My mood instantly became heavy, wishing it was just a joke, not something that had actually happened.
This April 1 marks the 20th anniversary of Leslie Cheung's passing. There are many commemorative events in Hong Kong, including exhibitions and tribute concerts.
My favorite song by Leslie is "The Wind Continues to Blow"《風繼續吹》: "… The wind continues to blow, can't bear to be apart… How many happy memories from the past, why not chase them with you… Wash away melancholy and pain, I'm willing to remember the tenderness and sweetness… Force back the tears of parting, not allowing them to fall… Worries gather like a lock on the brow, tears of parting will eventually fall apart…"
Today, I watched an interview video with Leslie Cheung's personal hairstylist, Herman Law. Through his sharing of years of close interactions and understanding with "Gor Gor" (Leslie's nickname), we can see a lesser-known side of Leslie Cheung.
Leslie Cheung's Encouragement and Creativity: Staying True to His Style
"Passion Tour" was Leslie Cheung's large-scale tour in 2000, which was also his last solo concert. Leslie served as the artistic director for the concert, themed "From Angel to Devil." He specially invited French fashion master Jean Paul Gaultier to be in charge of image design.
Many people might still remember his avant-garde appearance at the time, with long waist-length hair, see-through outfits, backless dresses, and skirts that showcased a gender-neutral image. Although praised by TIME magazine as "Top in Passion and Fashion," he received negative reviews in Hong Kong, such as being called "transgender," "superficial," and "vulgar," which directly affected the number of attendees at his concerts. It also had an impact on the staff behind the scenes.
However, Leslie Cheung was not discouraged. Instead, he often loudly encouraged everyone, saying, "We have to work harder. We have to show Hong Kong what style is! In six years, they might understand what style is! But we have to put our heart into doing this show today!" Not only did he talk the talk, but he also incorporated many creative elements into the concert, such as allowing the audience to see the silhouette of him changing clothes live through a curtain.
For Herman Law, having the opportunity to participate in this concert and collaborate with someone like Leslie Cheung in his career was both precious and unforgettable. In this interview, Herman Law fondly recalled a crucial lesson from his master: "When you do your profession well, others will respect you." This deeply influenced his work attitude later on, making him the hairstylist of choice for many top artists.
"Herman Lo, you're a good person. You'll be fine. Remember, you're a good person." These were the last words Leslie Cheung said to Herman Lo before his passing.
~The End~
This article has been translated by ChatGPT-4. The original text was in Chinese.
---
Thank you for reading this article! 😊
We hope you enjoyed the content and don't forget to share your takeaway with your family and friends!
Share this article
If you would like to collect the Writing NFT of this article to show your support for the author, please feel free to click here 👈.