English Article
Faith Life | From Gangster to Church Pastor: A Story of Transformation
My story: from gangster to believer, navigating the dark world of gangs and the church. Faith transformed my life, bringing hope and clarity. Experience Jesus Christ's power and witness my journey from confusion to hope.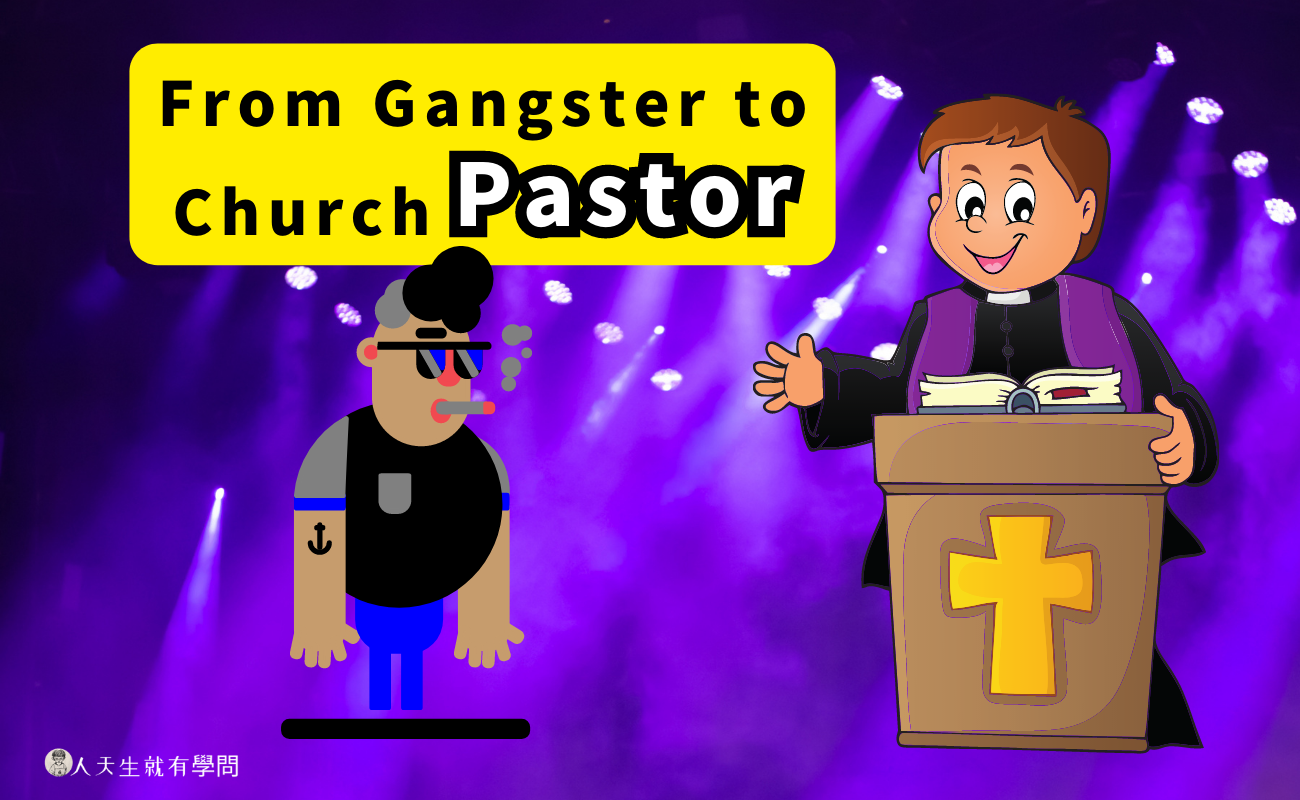 Netflix recently added a documentary about a South Korean cult, reigniting public interest in church clergy, pastoral ministry, and the genuine Christian faith. This is undoubtedly a good thing, as it helps people understand the true Christian faith, reducing the deception and brainwashing caused by heretical cults. In this article, I will share my journey of faith, hoping to benefit both Christians and non-Christians alike.
Life as a Gangster
Growing up, I was an introverted person, short in stature, with a large head, and poor academic performance. I always felt inferior to others. In sixth grade, I entered my rebellious phase early, joined a gang, and became a small-time hoodlum. Although I kept a low profile at school, outside of school, I often caused trouble with a group of so-called "brothers."
Struggles in High School
By the time I was in high school, many things made me reflect on life. I decided to leave the gang, but my life was still a mess. Although I attended a Christian school, I had no interest in Christianity and even felt some resentment. During Bible classes, I never paid attention and only wrote my name on Bible quizzes, leaving the rest blank.
The Beginning of My Faith Journey
In my senior year of high school, the school held an evangelistic meeting, where Mr. Roy Chiao's sharing moved me, and I became interested in the Christian faith. However, I hadn't fully accepted Jesus Christ as my Lord. It wasn't until a year later, when the school arranged for us to visit the world's largest floating book fair, "Doulos," and attend a small gospel gathering. There, a foreign missionary's sermon led me to embrace faith in Jesus Christ. That was in 1988.
Life Changes and Growth Brought by Faith
Since accepting Jesus as my Lord, my life has gradually changed and grown. I've given up some bad habits, such as smoking and swearing, and learned to love my parents. I am now filled with hope for life and have a greater affirmation of my own worth.
In the early stages of my faith, it was the co-workers of the campus ministry who helped me grow. For a period of time, I attended the campus ministry group at the Hong Kong Polytechnic (now upgraded to a university) every Saturday, spreading the gospel on campus. My life gradually changed and grew as I participated in church life. On October 1, 1989, I was baptized and joined the church at China Evangelical Seminary Sheung Shui Church, where Pastor Ngai Heung Yung (who passed away in 2017) officiated my baptism.
Called by the Lord
On January 13, 1991, during the Sunday worship service, God called me to dedicate my life to becoming a pastor. It was Theological Sunday, and my fellowship was responsible for offering hymns. This was my first time participating in a choir. After the hymns were offered during the worship service, the speaker finished preaching and issued a call for people to become pastors. At that moment, I felt God calling me very clearly and raised my hand in response. The worship service ended with hymn No. 470 from "Hymns of Life," and as we sang the second verse, I was moved to tears. It happened to be the coldest day on record in Hong Kong that year.
Soon after being called, I voluntarily joined "Operation Mobilisation (Hong Kong)" as a co-worker, responsible for missionary work, especially the preparation work for short-term missions every summer. After getting married in 1995, I entered the China Bible Seminary for full-time theological training, earning a Bachelor of Theology degree, and then officially served as a pastor in the church. About a year into my church work, I studied part-time at the Hong Kong Baptist Theological Seminary and earned a Master of Arts degree in Christian Studies (Communication).
Rich Ministry Experience and Slash-Pastor Identity
Over the past 20 years, I have served in independent churches, Christian and Missionary Alliance, Assemblies of God, and Hong Kong Sheng Kung Hui, experiencing different denominational traditions, collaborating with various co-workers, and learning many valuable lessons.
Under the Lord's guidance, in 2016, I decided to leave my stable ministry position and life, step out of my comfort zone, and establish a new church with limited resources. Now, I am the senior pastor of a small church in the Hong Kong Reformed Presbyterian Church.
My "slash-pastor" identity developed gradually during this time. Due to limited church resources and the need for self-sufficiency, like the Apostle Paul making tents for a living, I earned income for living while preaching and doing missionary work at the church every week. All of this is God's grace!
~End~
This article has been translated by ChatGPT-4. The original text was in Chinese.
---
Thank you for reading the article 😊 I hope you enjoyed it and will share your insights with others!
Share this article


Feel free to leave a comment and join the discussion, thank you 🙏